REGISTRATION OPENS FEBRUARY 14th!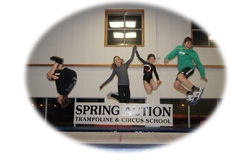 Teen Camp for Ages 12-15!
In addition to our regular ages camp (5-15 years old), we have decided to add designated camp weeks for teens! These weeks will feature age appropriate activities and give participants the opportunity to befriend other teens! Activities, emphasizing TRAMPOLINE will also include acrobatics, foam pit fun, trapeze juggling, diabolo, double mini-tramp, games and much more! Download our brochure
here
.
---
How does the day work?

A typical day at Spring Action Trampoline Centre summer camp starts with cooperative games and a stretching warm-up in the morning. The participants then break-up into their groups for rotations of trampoline, foam pit and circus activities. For lunch, weather providing, participants head to the city of Ottawa park to eat and play some games outside. Once lunch is over participants head back to the gym for more trampoline and circus fun! Near the end of the day we have free time where the participants can choose which activities they participate in and get a little extra jumping or practicing time, OR just let loose and just play! Included in our day we also have two snack times so make sure you send plenty to eat and drink!
Dates & Prices:

Teen Camp A - July 10th - 14th - $240.00

Teen Camp B - July 24th - 28th - $240.00

Teen Camp C - *Aug 8th-11th - $205.00

Teen Camp D - Aug 21st - 25th - $240.00

* no camp August 7th
All prices include HST
Our Staff
Spring Action summer camps are well supervised and safety oriented. Our staff consists of both coaches and coaches in training. Our coaches have extensive experience in the sport of trampoline and are certified by the National Coaching Certification Program. Our coaches in training are some of our past participants who aspire to be a coach in the years to come. They have much experience in the sport and have shown true leadership qualities that will help them thrive with the participants.
Extra Care - NEW extended hours!

Spring Action offers extra care for its camp participants from 7:30-9:00am & from 4:00-5:30pm OR 8:00-9:00am & From 4:00-5:00pm. During these hours participants are permitted to use any juggling equipment, however they are not allowed on any equipment (i.e. Trampoline, mini-tramp, tight-rope etc.) Parents must sign up and pay in advance in order to receive extra care.