Register online today!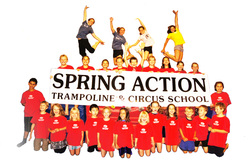 For ages 5 to 15 (we also have kinder camp for ages 4 to 5). Fun-filled, active days will expose participants to the wonderful world of circus and the exciting sport of trampoline. Activities, emphasizing TRAMPOLINE will also include acrobatics, foam pit fun, trapeze, juggling, diabolo, double mini-tramp, games and much more! At the end of every two week session participants will prepare a routine which they will get to show off on Parent's Day! With a new foam pit and beautiful parks within walking distance it is sure to be one of Ottawa's TOP camps! Download our brochure
here
.
---
You can now register online for all of our summer camps by clicking the link below!

Dates & Prices: ONE week or TWO week camps

Our first camp is starting July 4th and we run straight through until September 1st! Please note our summer camps run in two week sessions however participants are able to sign-up for ONE or BOTH (or more!) weeks of the any session. We are happy to accommodate your schedule and make sure your child gets the most out of their experience with us!
*Summer Camp A - July 4th to July 14th - $395

Summer Camp B - July 17th to July 28th - $430
*Summer Camp C - July 31st - August 11th - $395

Summer Camp D - August 14th - August 25th - $430

Summer Camp E - August 28th - September 1st - $240

One Week of any of our camps (You pick the dates!) = $240

Price for 4 day week = $205 (Either July 4th-7th or August 8th - 11th)

* No camp July 3rd or August 7th!
All prices include HST


Single Day Option:

Not sure if you want to sign up for a full week of camp? Come try it out for one day and see what we are all about! We will be offering single day camps all summer! Online registration for daily camps start May 1st!
Full Day : $55.00
Extra Care: $6.00 per day (8am-5pm)

*
Half day options are available. Please contact us for more details.


New Addition - Day Camps June 26th-30th!

Please click here for more information.
Multi-week Discount:
Receive 15% off your third (or fourth) week of camp!
Please note: To receive discounts for three or more weeks of camp please select the camps individually rather than choosing the two week option when registering online. You will still receive the discounted rate for signing up for two weeks in addition to the multi-week discount.

Multi-family Discount:

Receive 15% off the third sibling!
How does the day work?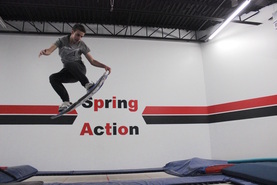 A typical day at Spring Action Trampoline Centre summer camp starts with cooperative games and a stretching warm-up in the morning. The participants then break-up into their groups for rotations of trampoline, foam pit and circus activities. For lunch, weather providing, participants head to the city of Ottawa park to eat and play some games outside. Once lunch is over participants head back to the gym for more trampoline and circus fun! Near the end of the day we have free time where the participants can choose which activities they participate in and get a little extra jumping or practicing time, OR just let loose and just play! Included in our day we also have two snack times so make sure you send plenty to eat and drink!
Deciding whether to attend week 1 OR week 2?
Although our camps are based on two week sessions, we do allow participants to come to one week of any of our camps! Can't decided which week to attend? Here is some additional information that can help you make your decision:
Week 1:
The first week of all of our camps is an introduction to all of the activities! Participants will be introduced to circus arts, games, activities and learn the basics of trampoline. If you are a Spring Action veteran you will be perfecting some of your previously learned tricks and will continue adding onto your skill repertoire. The week is based on fun, learning and working at the participants own rate!

Week 2:
The second week of every session is based on the Parent's Day performance. Participants who are only there for this week will have a quick introduction and overview of all of the activities, and will specialize in what they like best! For people that love to perform this is the week to choose! All family and friends are invited to watch our Parent's Day performance on the Friday at 3:30pm! At the performance all participants have the chance to show off their new trampoline skills for the audience!
Still can't decide? Just to be safe you better come to both!

Our Staff
Spring Action summer camps are well supervised and safety oriented. Our staff consists of both coaches and coaches in training. Our coaches have extensive experience in the sport of trampoline and are certified by the National Coaching Certification Program. Our coaches in training are some of our past participants who aspire to be a coach in the years to come. They have much experience in the sport and have shown true leadership qualities that will help them thrive with the participants.
Extra Care - NEW extended hours!

Spring Action offers extra care for its camp participants from 7:30-9:00am & from 4:00-5:30pm OR 8:00-9:00am & From 4:00-5:00pm. During these hours participants are permitted to use any juggling equipment, however they are not allowed on any equipment (i.e. Trampoline, mini-tramp, tight-rope etc.) Parents must sign up and pay in advance in order to receive extra care.
7:30-9:00am & 4:00-5:30pm - $8 per day

8:00-9:00am & 4:00-5:00pm - $6 per day
Prices include HST


Cancellation Policy:
Administration fee: $35.00 - Refunds will only be issued if a medical note is provided stating that the individual in not physically able to participate in the activities. Spring Action must be informed a minimum of 1 week (seven days) prior to the start of the camp that the individual will no longer be participating. In this case the payer will be charged the $35 administration fee and the remaining amount will be refunded.
A Credit will be issued if the participant is withdrawn from the program for any other reason. Spring Action must be informed a minimum of 2 weeks (fourteen days) prior to the start of the camp that the individual will no longer be participating. In this case, the payer will be charged a $35 administration fee and the remaining amount will be credited toward any other Spring Action program or booking.
We have limited space in our camps and our coach to participant ratios are extremely important to us. Our staff schedules are planned before camp begins and for this reason, we will not be able to provide a partial credit for participants who are absent due to illness or other reasons if they miss one or more days of camp.
---