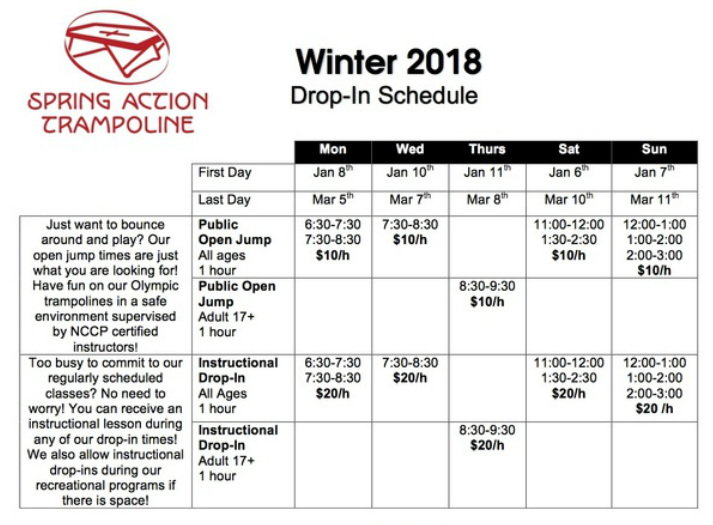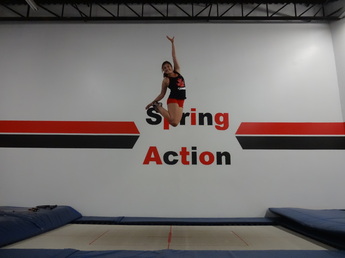 To get bouncing right away please download and fill out our registration form ahead of time!
Methods of payment: NEW online registration! Cash or check on site, email transfer (in advance only)

Please note that times are subject to change. For changes in drop-in times please visit our Upcoming Events page.
There are no office hours during the weekend. To make a reservation please use the online reservation form below or send us an e-mail. All drop-in reservations by phone must be made before Friday at 11am.

---
ADDITIONAL INFORMATION

How do Public Open Jumps Work?
Just want to jump and play for an hour on an Olympic sized trampoline? Spring Action Trampoline has top-notch equipment, you will be shocked they are still called trampolines! Much different than a trampoline park or a backyard trampoline, Spring Action trampolines are professional grade and you will notice right away! Come jump and play with our trampolines, there will be a nationally certified instructor on-site to help ensure the safety while you and your friends jump away. Participants must be 4 years or older. PLEASE NOTE: there is no flipping in these classes unless you have previously been registered in a Spring Action Trampoline program and had FLIP approval!
DOUBLE FLIPS are not permitted at any time during these classes
.
Registration
You may pay and register online up to 7 days in advance. Online registration will end 1 hour before the class starts. There is a service fee to register online.
We will continue to accept walk-ins if there is still space available. We always recommend making a reservation in advance to be guaranteed a spot.
Gymnastics Ontario Membership:
After your third fantastic hour with us all participants are required to purchase a Gymnastics Ontario Membership. The cost for the membership is $33.90 for the year, renewable June 30th, 2018.
With your membership you will receive the following:
- 2 Public Open Jump passes for the member
- 2 Bring-a-Friend passes
Open Jump Cost:
$10 per person for an hour. Remember after your 3rd visit you will need to purchase a GO membership.
To get bouncing right away please fill out our Drop-in Registration form ahead of time!
Public Open Jump drop-ins do not include a structured lesson plan. Our certified coaches are always present to ensure safety and assistance can be provided upon request

Public Open Jump drop-ins are only permitted during the times offered on the schedule above. There are no Public Open Drop-Ins during recreational classes
If you wish to attend a drop-in during our scheduled recreational classes the Instructional Drop-In fee will apply.
To participate in an open jump drop-in you must arrive for the scheduled times listed above.
Instructional Drop-In Cost:
$20 per person for an hour. Remember after your 3rd visit you will need to purchase a GO membership.
$30 for two family members.
An instructional drop-in can take place during the scheduled times above OR in any of our recreational classes provided that there is space in the class. Please reserve with us in advance.
Drop-In Passes:
We know that sometimes making a commitment to a class just isn't possible with busy lives, which is why we offer drop-in passes! Drop-in passes can be used during any of our drop-in times or even in our recreational classes provided there is space in them. These passes are perfect for students and adults who have to juggle school work, kids or have schedules that are constantly changing. These passes will allow you the freedom to chose when you can jump based on your schedule. All you need to do is give us a call to book your class in advance!
Please note: passes can only be purchased by participants with a valid Gymnastics Ontario membership.
10 Instructional Drop-In Pass - $165 + HST = $186.45
5 Instructional Drop-In Pass - $85 + HST = $96.05
10 Public Open Jump Drop-In Pass - $80 + HST = $90.40
5 Public Open Jump Drop-In Pass - $40 + HST = $45.20
All drop-in passes expire with Gymnastics Ontario memberships.
Policy on Double Flips:
For safety reasons, double flips are not permitted during the public open jump drop-ins. This policy applies to everyone jumping during these times, including currently registered Spring Action Trampoline session members. Double flips are only to be preformed during your registered session time with the coach that has been following your progressions. If you have any further questions please feel free to contact us at 613-761-9620 or info@springaction.ca.