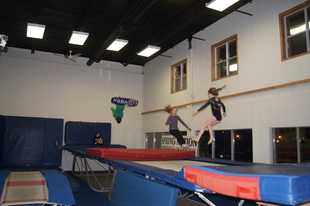 Trampoline is a fantastic sport and activity for people of all ages! It challenges the mind, body and brings out the inner child in everyone! There is always something new to learn, more twist to add or more flip to kick for, and most of all IT IS FUN! Can't commit to an entire session of instructional classes? Come Drop-in to one of our regular scheduled instructional classes (see below for details).

Don't miss out come for a trial class today!

---
About Our Classes

Age 4 or 66, beginner or advanced Spring Action has the trampoline class for you!
All Spring Action classes are based on individual learning styles. Our certified instructors work with each participant at their own skill level and learning pace. This format optimizes the learning advantage for every participant as well as giving our clients the flexibility of being able to join into any and all of our classes.
Our facility has 7 Olympic High Performance trampolines, a double-mini trampoline and a state of the art foam pit! This gives everyone something to do while on and off the trampolines. We book a maximum of three people per trampoline for our classes to ensure everyone gets enough quality jumping time in.
All of our coaches are experienced, cheerful and enthusiastic to share their knowledge with you! They are all certified by the National Coaching Certification Program and work hard to provide a positive and safe learning environment for all of our clients.
Types of Classes


Recreational:
For ages 6 and up. Our recreational classes are based on fun and learning. Participants spend an hour on the trampolines learning new skills, combinations and work their way through our level system step by step. Our certified instructors always make sure to balance the work with the play.

Freestyle:
Learn your bases, skills and drills for the slopes. Based on the Canadian Freestyle Association Air 1 and Air 2 modules these classes pay specific attention to developing air sense and skills for freestyle. Classes are 1.5 hours in length with a certified instructor.

Junior Jumpers:
For children aged 4-6 years old! With the focus on fun and jumping your child will learn basic trampoline skills, as well as develop strength and coordination by swinging, rolling, climbing, balancing and more!

Adult Classes:
For all levels, beginner to expert! Come learn the basics of trampoline or perfect all those skills that you used to be able to do in high school! Trampoline is a great way to stay in shape and build strength. Classes are individually structured to help each participant to progress from the stage they are at! Come learn and have fun with your peers!

Private Lessons:
For those who would like 30 minutes of one on one instruction. Instructors work directly with you on the skills that you want to perfect. Whether it is to help improve twisting technique and aerial awareness for other sports or just to help you excel your learning rate for your trampoline tricks, private lessons are a great way to get ahead of the game. These time slots can also be used for special needs lessons!

How To Register:
To register for any of our classes please send us an email at info@springaction.ca or give us a call at 613-761-9620! Our office staff will be happy to help you register for the class that best suits your schedule and your needs! Our session is currently in progress with pro-rated prices!


Drop-In Instructional Classes - $20.00 / hour
- Family special of 2 for $30.00/hour

- Spring Action is famous for it's instructional classes! With some of the top trampoline and acrobatic coaches in the country we are well known for teaching participants proper progressions and build-ups to safely learn trampoline, aerial skiing, wakeboarding and acrobatic skills. Drop-in to any of our regular scheduled instructional classes and join in the fun! Instructors are all certified through the National Coaching Certification Program and work with each individual at their own rate! Classes are run in a group setting so that people can laugh, learn and play together all while each participant works at their own rate and comfort level. Our instructors make sure everyone is set to succeed at their own level, all while learning some amazing trampoline! Instructional classes are limited in size, so you will never be more than 3 per trampoline!

Drop-In Passes
We know that sometimes making a commitment to a class just isn't possible with busy lives, which is why we offer drop-in passes! Drop-in passes can be used during any of our drop-in times or even in our recreational classes provided there is space in them. These passes are perfect for students and adults who have to juggle school work, kids or have schedules that are constantly changing. These passes will allow you the freedom to chose when you can jump based on your schedule. All you need to do is give us a call to book your class in advance! Please note: passes can only be purchased by participants with a valid Gymnastics Ontario membership.

10 Instructional Drop-In Pass
$165 + HST = $186.45

5 Instructional Drop-In Pass
$85 + HST = $96.05

10 Public Open Jump Drop-In Pass
$80 + HST = $90.40

5 Public Open Jump Drop-In Pass
$40 + HST = $45.20

All drop-in passes expire with Gymnastics Ontario memberships.