Register online today!

Now offering Full and Half Day Kinder Camps!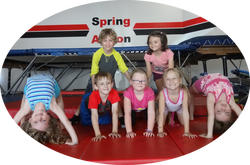 For ages 4-6. Fun-filled, active days will expose participants to the wonderful world of circus and the exciting sport of trampoline. Activities, emphasizing Trampoline will also include: scarf juggling, trapeze, feather balancing, tight wire, crafts, games and much more. Participants will be introduced to the basic skills of trampoline and circus arts all while in a fun, safe and positive environment. Download our brochure
here
.
---
Dates and Prices:
Kinder Camp A - July 17th-21st

Kinder Camp B - July 31st - Aug 4th

Kinder Camp C - Aug 14th - 18th

Full Day - $240.00
Half Day - $160.00
All prices include HST
Schedule


Morning & Full Day Campers:
9:00—9:15: Cooperative Games and Activities
9:15—9:45: Trampoline Time
9:45—10:05: Circus Time
10:05—10:20: Snack Time
10:20—10:45: Arts and Craft Time
10:45—10:55: Mini-Tramp, Trapeze & Foam Pit Time
10:55—11:25: Trampoline Time
11:25—11:30: Clean Up & Departure for Morning Campers

Full Day Campers:
11:30-12:00: Mini-Tramp, Trapeze & Foam Pit Time
12:00-1:15: Lunch Time


Afternoon & Full Day Campers:
1:15-1:30: Cooperative Games & Arrival of Afternoon Campers
1:30-2:00: Trampoline Time
2:00-2:25: Circus Time
2:25-2:40: Snack Time
2:40-3:05: Arts & Crafts Time
3:05-3:35: Trampoline Time
3:35-3:55: Mini Tramp, Trapeze & Foam Pit Time
3:55-4:00: Clean Up Time & Departure Time
Our Staff
Spring Action summer camps are well supervised and safety oriented. Our staff consists of both coaches and coaches in training. Our coaches have extensive experience in the sport of trampoline and are certified by the National Coaching Certification Program. Our coaches in training are some of our past participants who aspire to be a coach in the years to come. They have much experience in the sport and have shown true leadership qualities that will help them thrive with the participants.

Cancellation Policy:
Administration fee: $35.00 - Refunds will only be issued if a medical note is provided stating that the individual in not physically able to participate in the activities. Spring Action must be informed a minimum of 1 week (seven days) prior to the start of the camp that the individual will no longer be participating. In this case the payer will be charged the $35 administration fee and the remaining amount will be refunded.

A Credit will be issued if the participant is withdrawn from the program for any other reason. Spring Action must be informed a minimum of 2 weeks (fourteen days) prior to the start of the camp that the individual will no longer be participating. In this case, the payer will be charged a $35 administration fee and the remaining amount will be credited toward any other Spring Action program or booking