DAY CAMPS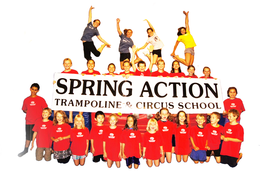 For ages 5 to 15. Fun-filled, active days will expose participants to the wonderful world of circus and the exciting sport of trampoline. Activities, emphasizing Trampoline will also include: stilts, juggling, diabolo, tight wire, unicycle, flying trapeze, aerial silks, games and much more. We offer a variety of camps including: Summer Camp, March Break Camp, Holiday Camp and PD Day Camps!



How does the day work?

A typical day at a Spring Action Day Camp starts with cooperative games and a stretching warm-up in the morning. The participants then break-up into their groups for rotations of trampoline and circus activities. For lunch, weather providing, participants head to the city of Ottawa park to eat and have some time outside. If the weather does not permit for us to go outside we eat in the snack room while some watch a movie and others play some quieter games. Once lunch is over participants go back in to the gym for more trampoline and circus fun! Near the end of the day we have clean-up time and free time where the participants can choose which activities they participate in! Included in the day we also have two snack times so make sure you send plenty to eat and drink!

Our Staff

Spring Action camps are well supervised and safety oriented. Our staff consists of both coaches and coaches in training. Our coaches have extensive experience in the sport of trampoline and are certified by the National Coaching Certification Program. Our coaches in training are some of our past participants who aspire to be a coach in the years to come. They have plenty of experience in the sport of trampoline and circus and are in the process of learning how to be a leader. All of our staff are there to ensure a fun and safe learning experience for everyone!
---